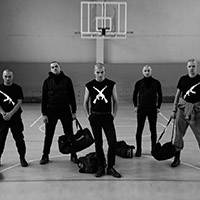 There are no active performances for this event!
Event details
After an unforgettable performance at last year's MENT Ljubljana festival, one of the best Russian live bands Shortparis is coming back with a headline gig. Their spastic dance grooves and post-punk, experimental noise and even chanson elements shape a unique music aesthetic, and the group will stop at Šiška during their first European tour, which sees them packing clubs from Warsaw to Liverpool.
Even before they played at MENT in 2018, the European showcase circuit whispered that Shortparis are it. That elusive, exciting, fresh, astonishing new band that every journalist, agent or listener wants to be the first to discover and spread the word all over the world. Their intense show in Ljubljana even surpassed the high expectations, leaving the music professionals present gaping, including famed BBC Radio 6 Music host Mary Anne Hobbs, who started playing their music on her show soon after that.
The band's provocative music rituals, whether in song, video or concert form, are thus spreading among a growing audience like wildfire. Their dark electronic soundscapes, driven by a five-piece band with no less than two drummers and under the command of charismatic singer Nikolai Komyagin, are poganja petčlanska zasedba s kar dvema bobnarjema, so "ambitious, bombastic, incredibly pretentious, erotic, thrilling, impossible to pin down, vaguely deviant, fun to dance to and full of revolutionary potential" (The Quietus), so the band's return to our parts can't come soon enough. As added by The Quietus: "Sure, if you listen hard enough you can hear them laughing but you would be a fool to make the mistake of presuming that they're joking."
Promoter:
Kino Šiška
Trg prekomorskih brigad 3
1000 Ljubljana