OPERATORS + Bernays Propaganda
- Tickets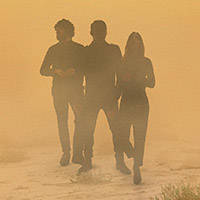 There are no active performances for this event!
Event details
After their scintillating first visit in 2016, Operators, led by the diligent Dan Boeckner (Wolf Parade, Handsome Furs, Divine Fits), are returning to Šiška with a new album. Radiant Dawn is scheduled for release in May 2019 and features Boeckner's vocals intertwining with the cinematic sound of analogue instruments.
The Canadian group Operators, which features Devojka and Sam Brown (Divine Fits, New Bomb Turks) alongside Dan Boeckner, was formed in 2014 and played Šiška with their debut album Blue Wave a mere two years later. The band quickly won over listeners, even becoming one of the few acts to play the famed Primavera Sound festival two years in a row – our team caught the 2017 show and it was immediately clear that Operators need to head back our way as soon as possible.
In the intermediate time, Boeckner was busy with other projects – he released a new album with Wolf Parade and paid us a visit with them last year, he recorded a song for the acclaimed film Mandy, and together with Operators he played a series of sold-out shows of Handsome Furs material. Now it's finally time for a new Operators studio album. The 14 magnificent new electro pop songs on Radiant Dawn are doused in 1970s sci-fi dystopia, and the album and its fresh energy represent the logical next step in Boeckner's career. And with a title like Radiant Dawn, we can't think of a more appropriate band to open our 10th anniversary festivities.
Odgovorni organizator prireditve:
Kino Šiška
Trg prekomorskih brigad 3
1000 Ljubljana