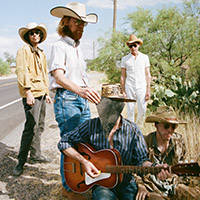 There are no active performances for this event!
Event details
Deerhunter, one of the key bands in contemporary indie rock, led by the provocative singer and guitarist Bradford Cox, is finally coming to Slovenia – bearing a new album! Why Hasn't Everything Already Disappeared?, released in January via the acclaimed 4AD label, is already garnering praise from reviewers – NME, Pitchfork and The Independent gave it a high mark of 8/10, Exclaim! an even higher 9, and The Skinny no less than 10/10.
During a career spanning nearly 20 years and many a tragedy, Deerhunter have crossbred their indie rock foundation with more or less everything: psychedelia, experimental, ambient, garage, noise, post-rock, shoegaze, pop and more. The common thread that runs through their unique body of work are curiosity and boldness – as well as success, of course. Their discography contains well-received release after well-received release, including the crown jewel, Halcyon Digest, one of the 1001 albums you must hear before you die, which made numerous end-of-year best-of lists in 2010.
Their January release Why Hasn't Everything Already Disappeared? is another example of the band, notorious also for the unbridled sincerity of frontman Bradford Cox (Atlas Sound), hitting the mark. The album, a response to the contemporary disappearance of culture, humanity, nature, logic and emotions, is again exciting and unpredictable, as befits Deerhunter. "The slow, crumbling decline of civilisation has rarely sounded so good," salivated The Skinny. The decline of civilisation in Šiška starts in April.
Promoter:
Kino Šiška
Trg prekomorskih brigad 3
1000 Ljubljana