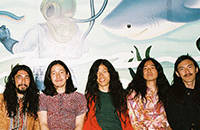 KIKAGAKU MOYO
There are no active performances for this event!
Info
In the middle of August, we'll go on an exotic trip with an eclectic blend of rock, kraut, acid folk and more, courtesy of Japanese psychedelics Kikagaku Moyo. With last year's Masana Temples album, the band reaffirmed itself as one of the most promising names in contemporary neopsych, excelling also due to an exceptional sense of live improvisation. They were even invited on tour with the mighty King Gizzard & the Lizard Wizard and have performed at festivals such as Roadburn, Austin Psych Fest and Desertfest.
Tokyo psych-rockers Kikagaku Moyo elegantly balance gentle contemplation and heavy jamming in their positively oriented blend of genres from all over, from traditional Indian music to krautrock repetition and guitar riffs. Since the release of their debut in 2013, the group's tireless concert schedule has established it as a favourite of the modern psych scene all over the world, with performances and esteemed festivals such as Roadburn, Austin Psych Fest and Desertfest.
Last year, the band published their fourth full-length album Masana Temples, rooted somewhere in other dimension, yet still accessible and relaxed. The album "that even in its slower moments seems to be constantly pushing forward, a hazy, dreamlike soundtrack to a classic road-trip movie" (The 405) will be perfect for easing the Ljubljana summer heat at the band's first visit to out parts.
Promoter:
Kino Šiška
Trg prekomorskih brigad 3
1000 Ljubljana